Springfield Dentist Discusses His New Office and Same-Day Smile Makeovers in an Interview With DentalTown Magazine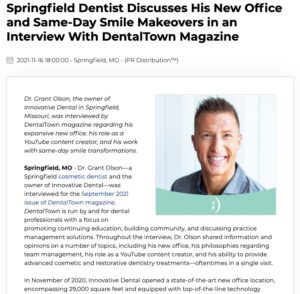 Dr. Grant Olson, the owner of Innovative Dental in Springfield, Missouri, was interviewed by DentalTown magazine regarding his expansive new office, his role as a YouTube content creator, and his work with same-day smile transformations.
Springfield, MO – Dr. Grant Olson—a Springfield cosmetic dentist and the owner of Innovative Dental—was interviewed for the September 2021 issue of DentalTown magazine. DentalTown is run by and for dental professionals with a focus on promoting continuing education, building community, and discussing practice management solutions. Throughout the interview, Dr. Olson shared information and opinions on a number of topics, including his new office, his philosophies regarding team management, his role as a YouTube content creator, and his ability to provide advanced cosmetic and restorative dentistry treatments—oftentimes in a single visit.
In November of 2020, Innovative Dental opened a state-of-the-art new office location, encompassing 29,000 square feet and equipped with top-of-the-line technology throughout. Dr. Olson notes that many people felt his project was too ambitious, but he believes that both patients and staff benefit when their comfort and satisfaction are made a priority. Furthermore, he asserts that investing in technology allows the practice to increase efficiency while also delivering more precise and personalized treatment.
In the DentalTown article, Dr. Olson discusses the fact that leadership development and workplace culture are things that he values very highly, as he believes that team culture is a major component of what drives patient experience. This has led him to launch a new company called Rheostat, which is focused on helping other dental practices refine their company culture and optimize their practice operations. The hope is that greater efficiency and actionable analytics will help practices expand and grow their patient bases.
One of the ways in which Dr. Olson has helped expand Innovative Dental's ability to reach patients is through his YouTube channel. He began posting informative dental videos in 2013 with the aim of sharing his own knowledge of and passion for dentistry. As of 2021, he now has over one-hundred-thousand followers. Dr. Olson notes that his content creation efforts and rising follower count have led to a marked increase in patients who choose to travel from all over the world to be treated at Innovative Dental.
Of particular interest to his online followers has been Dr. Olson's work with full-mouth reconstruction and smile makeovers. Dr. Olson notes that advances in dental technology have made it feasible for many traveling patients to receive their treatment in a single office visit. CEREC® 3D technology allows the dentists at Innovative Dental to fabricate porcelain veneers, crowns, bridges, and other cosmetic and restorative solutions on-site in just a few hours.
Dr. Olson is extremely passionate about all aspects of dentistry, and he strives to continue growing his practice. He notes that his vision for the future of dentistry may seem ambitious, but he is strongly guided by his love of dentistry and strong Christian faith to provide superior service and life-changing results for all of his patients.
About Dr. Grant Olson
Dr. Grant Olson is the owner and director of Innovative Dental, a full-service dental practice based out of Springfield, Missouri. Dr. Olson and his team—Dr. Megan Westrich and Dr. Taylor Jordan—provide a range of high-quality dental services, including general and preventative dental care, dental implants, and Invisalign®. He also holds the distinction of being one of only 300 CEREC® Mentors in the world, indicating his advanced skill and experience in crafting same-day dental restorations. In addition to dentistry, Innovative Dental also offers a range of medical spa procedures, including BOTOX® Cosmetic injections and microneedling treatments. Dr. Olson is available for interview upon request.
To learn more about Dr. Olson and Innovative Dental, please visit idspringfield.com and facebook.com/idspringfield.
Contact:
Innovative Dental
6401 S. Innovation Ave.
Springfield, MO 65804
(417) 889-4746
Rosemont Media
(800) 491-8623
www.rosemontmedia.com