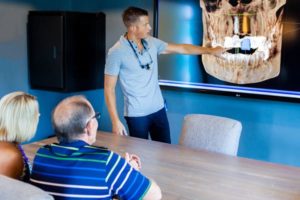 If you have missing teeth, our Springfield cosmetic dentists, Dr. Grant Olson and Dr. Megan, can restore both function and appearance with dental implants. An alternative to traditional dentures, dental implants can offer a more permanent and natural solution to enhance your smile and improve chewing and speaking. Unlike dentures, dental implants are anchored to your jaw with an artificial tooth root, making them a permanent part of your mouth and mimicking your natural teeth in the way they look and feel. They do not move or slip along the gumline, and they require no extra maintenance beyond regular brushing and flossing. These innovative solutions for replacing missing teeth have been revolutionary in the restorative dentistry field, and we are proud to offer them to our patients here in Springfield.

Innovative Dental did my implants and they are amazing!!! Extremely impressed.

Joselyn Dodson

November 16, 2017

12345
Benefits
There are many benefits our patients can enjoy with dental implants, including:
Replacements for missing teeth that look and feel natural
Permanent results
Improved functionality – restored biting, chewing, and speaking abilities
Prevention of future complications of missing teeth on jaw joint
No slipping or falling out
Easy maintenance – only normal brushing and flossing required
Prevention of an imbalanced bite and unnatural wear of teeth
Procedure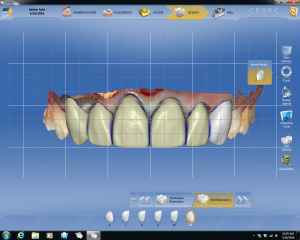 Our team will begin the dental implant treatment process by meeting with you for a thorough consultation to assess your jaw and gums, and go over your expectations. Once it is determined that you are a candidate for dental implants, we will use a special 3D imaging system to create a meticulously detailed view of your oral anatomy. This will help us plan the implant placement with extraordinary precision, allowing for the most comfortable and natural fit possible. We will then place a small, strong titanium post under the gums in the area of your missing tooth. This post is designed to integrate into the jaw and act like your natural tooth root. In about three to six months, the implant should completely fuse to the jawbone in a process called osseointegration. Many times, we can place a temporary crown over the implant during this process. Once the implant has fused to the bone, we will then affix a custom-made, permanent crown on the implant, and the procedure is complete. Your new tooth should both look and feel like a natural part of your mouth.
Learn More About Dental Implants
At Innovative Dental of Springfield, we offer advanced dental implant techniques to ensure the best possible results. Follow the links below to read about technology our team utilizes to allow for the most precise dental implant placement, as well as options for denture wearers who would like to add more strength and stability to their teeth.
Contact Innovative Dental
If you are interested in learning more about dental implants, or if you would like to meet with Dr. Olson or Dr. Megan for a one-on-one consultation that includes a complimentary 3D scan, please contact us today.