What Are Dental Implants?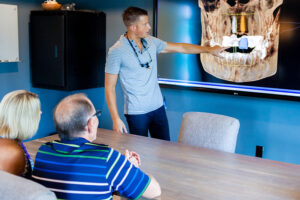 If you have missing teeth, our dentists can restore both function and appearance with dental implants. An alternative to traditional tooth restoration options, dental implants can offer a more permanent and natural solution to enhance your smile and improve chewing and speaking. Unlike conventional crowns, bridges, and dentures, dental implants are supported by a titanium post placed into the bone, making them a permanent part of your mouth and mimicking your natural teeth in the way they look and feel. They do not move or slip along the gumline, and they require no extra maintenance beyond regular brushing and flossing. These innovative solutions for replacing missing teeth have been revolutionary in the restorative dentistry field, and we are proud to offer them to our patients here in Springfield.
To learn more about dental implants, we invite you to view the detailed sections below, or contact Innovative Dental today to schedule an appointment.
What Benefits Do Dental Implants Offer?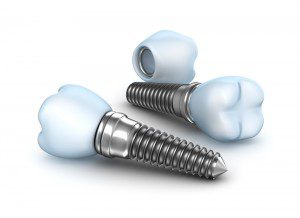 There are many benefits our patients can enjoy with dental implants, including:
Replacements for missing teeth that look and feel natural
Permanent results
Improved functionality—restored biting, chewing, and speaking abilities
Prevention of future complications of missing teeth on jaw joint
No slipping or falling out
Easy maintenance—only normal brushing and flossing required
Prevention of an imbalanced bite and unnatural wear of teeth
Innovative Dental did my implants and they are amazing!!! Extremely impressed.

Joselyn Dodson

November 16, 2017

12345
More Reviews
What Are the Different Types of Dental Implant Solutions?
Our doctors offer dental implants for the replacement of a single tooth, several consecutive teeth, and even an entire row of upper or lower teeth. These options can be categorized into three different types of dental implant solutions:
Single-Tooth Implants – Designed to replace individual teeth, this implant option consists of a single implant post capped with a custom dental crown. This restoration is often a good choice if you are missing one tooth or have multiple missing teeth that are not adjacent to one another.
Implant Bridges – If you have two or more consecutive missing or damaged teeth, an implant bridge may be an excellent solution. With this option, a customized dental bridge is held in place by at least two dental implants, making it much more secure than traditional bridges that are supported by natural teeth.
Implant Supported Dentures – Also called implant dentures or implant anchored dentures, this full arch restoration can be a great alternative to removable dentures. Generally secured by five to six implant posts, implant supported dentures can provide exceptional strength and stability when replacing a complete row of teeth.
Is Everyone a Candidate for Dental Implants?
Good candidates for dental implants typically include patients who:
Wish to replace one or more damaged and/or missing teeth
Desire a more secure, natural-functioning, and longer-lasting alternative to traditional tooth replacement options
Have healthy gum tissue with no indication of periodontal disease
Do not smoke or have any medical conditions that may interfere with proper healing
At the time of your consultation, one of our doctors will perform an extensive evaluation to determine if dental implants are right for you. In some cases, preliminary procedures—such as scaling and root planing for gum disease—can be employed prior to implant surgery in order to improve candidacy and increase the likelihood of treatment success. Our team will discuss all options available in full detail, ultimately helping you decide on the most appropriate course of action for your tooth replacement needs and goals.
Download our dental implant pricing & Information Guide
Fill out the form below and we will email/text you the guide along with a $350 savigns offer!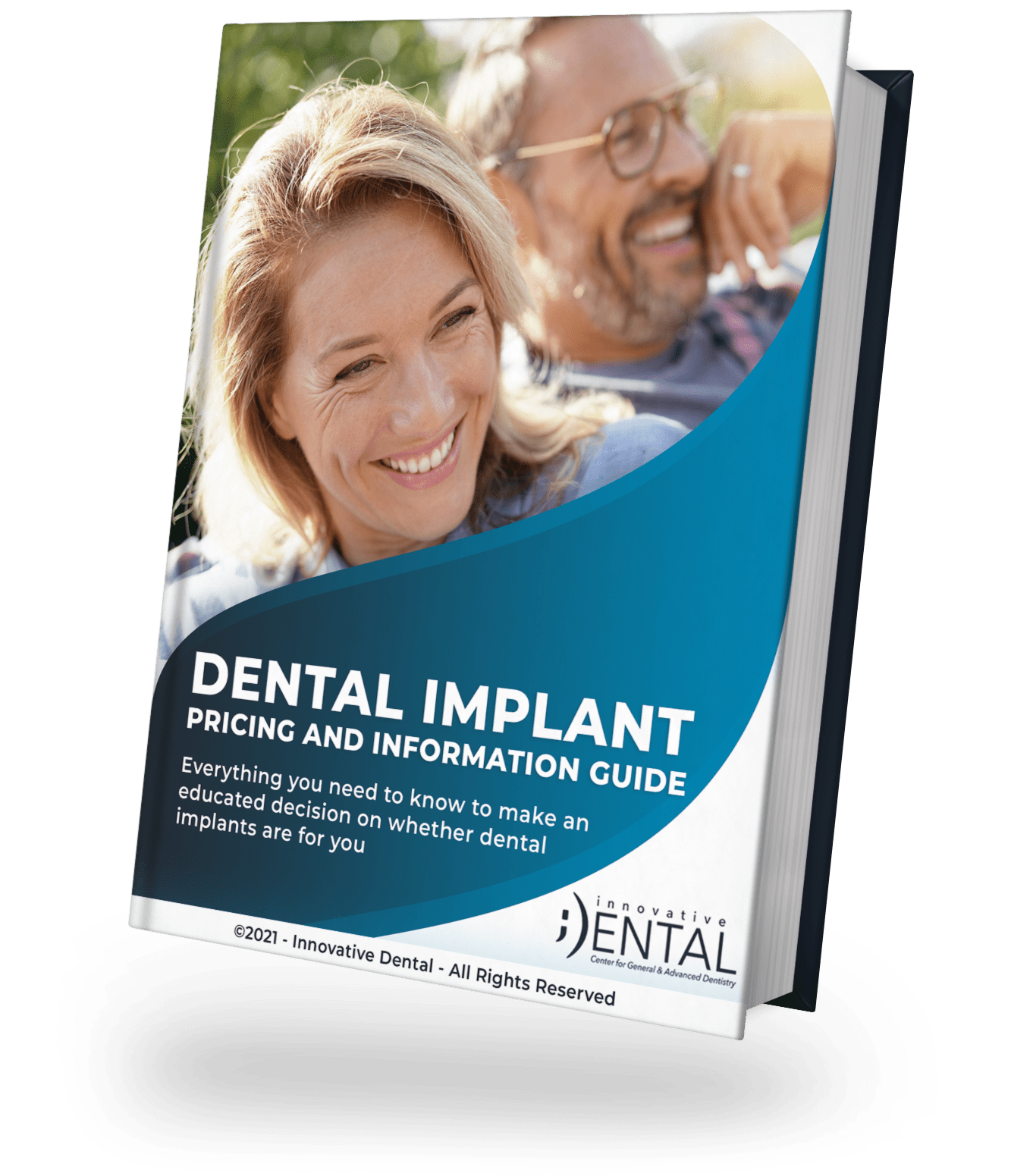 Dental Implant Options
Average Pricing
Factors That Affect Eligibility
And More…
How Is the Dental Implant Procedure Performed?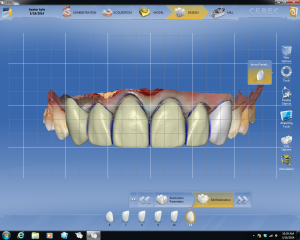 At Innovative Dental, we offer advanced surgically guided dental implant techniques to ensure the best possible results. Your dentist will begin the implant treatment process by meeting with you for a thorough consultation to assess your jaw and gums, and go over your expectations. If it is determined that you are a candidate for dental implants, they will use a special 3D imaging system to create a meticulously detailed view of your oral anatomy. This will help them plan the implant placement with extraordinary precision, allowing for the most comfortable and natural fit possible.
At the time of surgery, your dentist will place a small, strong titanium post under the gums in the area of your missing tooth. This post is designed to integrate into the jaw and act like your natural tooth root. In about three to six months, the implant should completely fuse to the jawbone in a process called osseointegration. Many times, our doctors can place a temporary crown over the implant during this process. Once the implant has fused to the bone, your dentist will affix a custom-made, permanent crown on the implant, and the procedure is complete. Your new tooth should both look and feel like a natural part of your mouth.
How Long Do Dental Implants Last?
Once fused to the jawbone, dental implant posts typically become a permanent part of the mouth. The crown, bridge, or denture secured to the implant(s) usually lasts several years—sometimes even decades—before potentially needing replacement. It is important to note that the longevity of dental implants can be impacted by oral hygiene, so brushing, flossing, and receiving professional dental cleanings on a routine basis are vital to helping prolong the lifespan of your restoration(s).
What Do Dental Implants Cost?
The average price dental implants at Innovative Dental varies greatly from patient to patient. Factors that can influence the total cost of your dental implant procedure include:
How many implants are placed
The specific restoration(s) utilized—crown, bridge, or denture
Whether or not preliminary dental treatments are needed to improve oral wellness
The overall complexity of surgery
Any insurance coverage offered through dental healthcare plans
When considering dental implants, it is critical to keep in mind that pricing is often an indication of the training and experience of a dentist, the quality of materials and technology they use, and the success they've had in achieving excellent results. For these reasons, a "low cost" should never be the sole reason for choosing a particular dental implant provider.
Financing for Dental Implants
If you are interested in dental implants but concerned about the overall expense, our practice partners with several healthcare lenders to offer dental financing options that fit virtually any budget. During your visit, a member of our team will be happy to get you started on the application process for the plan of your choice. Once you have received word on approval—which typically happens within minutes—we can move forward with scheduling treatment as soon as you wish.
Are There Any Alternatives to Dental Implants for Non-Candidates?
While periodontal treatment and/or other dental services can often improve eligibility for many individuals who are not initially considered good candidates for dental implants, there are some cases in which an alternative treatment may be the best option. Other tooth restoration solutions available at our practice include dental crowns designed to restore form and function to badly damaged teeth, as well as dental bridges made to replace one or more consecutively missing teeth. We also offer inlays and onlays—also called partial crowns—if enough tooth structure remains that a full crown is not necessary for successful restoration of single teeth.
At the time of your consultation, your dentist will discuss all tooth replacement and restoration options available to you, helping you select the most appropriate treatment for your needs and goals.
Additional Frequently Asked Questions About Dental Implants
Are dental implants safe?
Generally speaking, dental implants are considered a safe tooth replacement solution when treatment is properly performed by a skilled and experienced dentist. Of course, as with any surgery, there is some degree of risk involved, making it imperative that you select a dentist who has received extensive implant dentistry training, utilizes state-of-the-art technology for precision planning and surgical placement, and has a proven track record of successful treatment—such as the doctors on our team. By choosing the right dentist, you can minimize potential risks and complications while maximizing safety and long-term success.
Do dental implants hurt?
Typically, local anesthesia is all that is necessary to limit any potential discomfort during dental implant surgery. In fact, most of our patients say they experienced little to no pain at all—only slight sensations of pressure. Following treatment, our doctors often recommend over-the-counter medication should any postoperative discomfort manifest, though the majority of individuals have no issues with pain after the placement of their dental implants.
How do I clean and care for my dental implants?
Just like natural teeth, dental implants require regular brushing and flossing, as well as professional cleanings at least twice annually. While the implant post and tooth restoration attached to the top will not decay, ensuring the surrounding gum tissue and other oral structures remain healthy is essential to achieving long-lasting results.
How successful are dental implants?
The success rate of implant dentistry is very high when treatment is performed by a qualified provider. That said, success in not solely in the hands of the dentist—patients themselves also play a role. Factors such as how closely recovery instructions are followed, how well optimal oral hygiene is maintained over time, and whether or not detrimental habits like smoking and/or tobacco use are avoided can all influence the long-term success or failure of dental implants. Therefore, choosing the right dentist and doing your part to ensure the best outcome is critical to success.
Is it ever too late to get dental implants?
When it comes to candidacy for dental implants, age is not generally as important as having adequate jawbone density and sufficient oral wellness. In fact, our doctors have treated numerous patients who chose to receive dental implants or implant-supported dentures later in life. During your consultation, your dentist can determine if dental implants would be right for you at this time based on your unique situation.
How do I choose an implant dentist?
Selecting the right dentist for dental implants is an incredibly important decision, as it relates directly to your safety, results, and overall quality of care. To help ensure you choose the right provider, it can be beneficial to heed the following advice:
Make sure your dentist has the proper training and experience to perform implant surgery. To do so, you can usually visit the bio page on their website and/or various online directories, as well as simply ask them about their educational and professional background directly.
Inquire about the number of dental implant cases your dentist has performed, including an estimate of the overall success rate they have attained. Also, despite how unlikely implant failure may be in the right hands, it's always a good idea to ask what steps would be taken in the event treatment is not initially successful.
Ask about the technologies your dentist will utilize to perform all aspects of treatment. In today's age of dentistry, advanced technology isn't simply a flashy way to attract patients—state-of-the-art planning software, surgical guides, milling systems, and more can truly improve the efficacy, efficiency, and long-term success of implant dentistry.
Check out online ratings, reviews, and testimonials for your dentist—preferably those pertaining to implant dentistry. What former patients have to say about their experience can give you a great indication of the quality of care (and potentially even results) you can expect.
Take a look at before-and-after photos of dental implant patients on your dentist's website. Actually visualizing the outcomes your dentist has achieved for other patients can help to ensure your aesthetic goals align with theirs. You may even find patient cases similar to your own.
Listen to your gut. Even if your prospective dentist checks all other boxes, if you don't get a good feeling or something seems off, trust your instincts and continue your search for the right provider. You want to feel completely comfortable and confident in whomever you choose—you deserve nothing short of top-quality care.
Contact Innovative Dental
For more information about dental implants, or if you would like to meet with one of our doctors for a one-on-one consultation that includes a complimentary 3D scan, please contact us today.
If you have more questions
Contact Us