In addition to protecting your oral health and giving you a stunning smile, the dedicated team here at Innovative Dental also provides exceptional aesthetic services at our in-house med spa. Our specially selected non-surgical aesthetic procedures are designed to treat the adverse signs of aging and common skin conditions in order to give you a more refreshed, youthful appearance. Using one of the procedures below, Lauren Helmuth, our experienced Nurse Injector, can help give you a renewed facial aesthetic worth smiling about!
To learn more about our services, or to schedule an appointment with Lauren, we encourage you to contact us today!
BOTOX® Cosmetic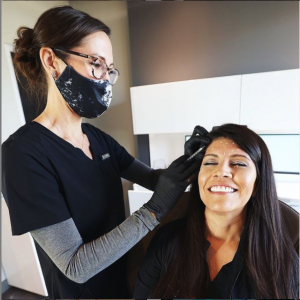 BOTOX® Cosmetic is FDA-approved for the treatment of dynamic facial wrinkles—including forehead lines and crow's feet— and it has been helping patients obtain a smoother, rejuvenated appearance for nearly two decades. The scientifically formulated BOTOX® Cosmetic solution is injected into targeted regions of the face using a very thin needle. The active ingredient from which BOTOX® Cosmetic derives its name—botulinum toxin—then helps temporarily paralyze the overworked facial muscles that cause dynamic wrinkles.
Although the name "botulinum toxin" can be intimidating for some patients, it is the toxin's unique relaxation properties that make it such a generally effective treatment for facial lines and wrinkles. By relaxing the overworked muscles around the injection site, BOTOX® Cosmetic can lessen the appearance of existing wrinkles for a more youthful and refreshed look. Furthermore, regular injections can also help lessen—and sometimes even prevent—the development of new wrinkles by reducing the strain on the facial muscles. The results of a BOTOX® Cosmetic treatment typically last between 3-4 months, and periodic touch-up treatments can help maintain your desired appearance.
JUVÉDERM®
The face is one of the most prominent features of the body, and it is also one of the first regions to start showing the signs of aging. Over time, skin begins to lose its youthful volume and firmness, often resulting in wrinkles and other undesired aesthetic effects. JUVÉDERM® is a cosmetic dermal filler with a hyaluronic acid base that is designed to plump and firm the skin using a specially formulated gel solution. Injections are administered using a very thin needle, adding volume to the targeted region(s) for a fuller, more youthful appearance. The JUVÉDERM® line of products includes treatments specifically designed to enhance different parts of the face, including the lips, cheeks, and the regions around the mouth and nose. Results can last from about six months up to two years, depending on the type of filler administered. Follow-up treatments can be scheduled in order to help maintain your results.
Microneedling
Microneedling, also known as collagen induction therapy, is a treatment designed to help refresh the look of your skin by taking advantage of its own self-reparative properties. The procedure works by using small, sterile needles to lightly puncture the surface of the skin. The body responds to these punctures by generating a greater amount of collagen and elastin, tightening, firming, and repairing the overall look and feel of the skin. This procedure can be ideal for those who have minor scarring, wrinkles, large pores, and/or other textural issues. The induction of collagen can also give the skin a fuller, plumper, and more generally youthful appearance.
Dermaplaning
Dermaplaning is a skin enhancement technique that can help remove layers of built-up debris, dead cells, and even unwanted vellus hair (peach fuzz) in order to give your skin a soft, refreshed, and rejuvenated appearance. During treatment, Lauren will gently and meticulously guide a small, thin blade across the skin to remove the outermost layer of the dermis and promote the emergence of healthy, clear skin underneath. As an added benefit, dermaplaning can make skincare products easier to absorb, further contributing to improved skin health and appearance.
Skincare Store
In addition to our in-office treatment options, we are also proud to offer a selection of at-home skincare products designed to help you achieve and maintain the radiant, refreshed look you desire. Click the link below to visit our online store and browse our range of luxurious products:
Request your free MedSpa consultation