A bright, white smile can make all the difference when it comes to first impressions. At Innovative Dental, we offer at-home teeth whitening treatments that are designed to improve the appearance of your teeth and help you feel confident about your smile.
If you are interested in teeth whitening, please explore the information below and/or contact us today to schedule an appointment with our cosmetic dentists.
Natural Teeth Whitening vs. Professional Teeth Whitening
While natural whitening techniques like "coconut oil teeth whitening" and "charcoal teeth whitening" may achieve a moderate bleaching effect for some individuals, the results of these methods are typically inferior to professional treatments due to the advanced formulas offered by dentists. Furthermore, charcoal (and even some toothpastes) might be too abrasive for some people's teeth, ultimately causing tooth damage as opposed to smile enhancement.
Similar to natural bleaching options, over-the-counter products can provide a certain degree of whitening, but the effects are generally mild in comparison to professional-grade techniques. Most over-the-counter strips and trays utilize bleaching agents like those used by dentists; however, these ingredients tend to be significantly weaker than professional solutions, resulting in limited whitening. Additionally, over-the-counter products are made to be a "one-size-fits-all" treatment, so it can be difficult to achieve the exact shade of white desired.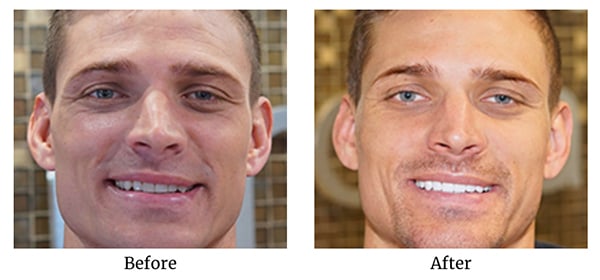 What Does the At-Home ZOOM!® Teeth Whitening Treatment Entail?

Zoom!® teeth whitening can be an excellent way to brighten your smile in the comfort of your own home. In addition to producing often radiant results, this effective technique is the only at-home system proven to reduce tooth sensitivity and protect tooth enamel. With this treatment, our doctors will customize a unique tray based on the dimensions of your teeth and create a whitening concentration that can be used until your desired shade is achieved. Taking your specific lifestyle and needs into account, your dentist will help you develop a whitening regimen that can effectively attain your goals in the quickest, most convenient time frame possible. By using Zoom!® at-home teeth whitening from our office, you should be able to see visible results in one day and optimal results in as little as two weeks.
How Long Do Teeth Whitening Results Last?
For the majority of patients, professional teeth whitening results last several years before touch-up treatments may be needed. Chief causes of gradual tooth discoloration include many foods and beverages people regularly consume, such as coffee, tea, red wine, soft drinks, berries, pasta sauce, etc. Additional elements that can contribute to—or even accelerate—yellowing or staining include smoking and/or the use of tobacco products, as well as failure to brush and floss at least twice daily.
To help prolong the results of teeth whitening, our doctors recommend remaining cognizant of what you eat and drink on a regular basis, refraining from smoking/tobacco use, and maintaining optimal oral hygiene habits—the latter of which includes receiving yearly dental cleanings. Should a touch-up treatment eventually be desired, our at-home Zoom®! Whitening system can provide a convenient and effective solution.
How Is Tooth Sensitivity Managed During and After Teeth Whitening?
The potential for tooth sensitivity is a common concern among many individuals considering teeth whitening. At Innovative Dental, our dentists are aware of this typical worry, and they make every effort to maximize comfort both during and after whitening to help ensure patients have an optimal treatment experience.
As mentioned previously, the Zoom!® at-home teeth whitening system we offer has a proven track record of decreased tooth sensitivity, with most of our patients reporting little to no discomfort at all. That said, to be even more conservative with pain management if you have a history of dental sensitivities—or if you are simply worried about the possibility of discomfort—your dentist can tailor your treatment plan to include less frequent use of the whitening trays (e.g. every other day use as opposed to every day). Additionally, they may even recommend you utilize certain oral hygiene products designed to limit tooth sensitivity (such Sensodyne® toothpaste) both before and after treatment, as well as advise you to switch to a toothbrush with softer bristles.
Ultimately, the exact plan for managing tooth sensitivity during and after teeth whitening will depend on your unique needs and treatment goals, and your dentist can formulate the best approach and/or provide personalized tips during a consultation at our office.
How Much Does Teeth Whitening Cost?
The cost of Zoom!® teeth whitening at our practice varies based on the individual needs and goals of each patient, with factors such as the degree of whitening desired and how long treatment will take to achieve the preferred shade having an influence on total pricing. As a result, an in-person appointment with one of our dentists is needed to obtain a personalized price quote that reflects the specifics of your unique treatment plan.
Since teeth whitening is considered cosmetic, dental insurance will likely not cover the procedure. However, if cost is a concern for you, our practice offers dental financing through reputable healthcare lenders that can break the total expense into budget-friendly monthly installments. A member of our team will be happy to provide more details on your financing choices and/or help you get started on the approval process at the time of your visit.
Contact Innovative Dental
For more information about our innovative teeth whitening options, or to schedule an appointment, please contact Innovative Dental today!