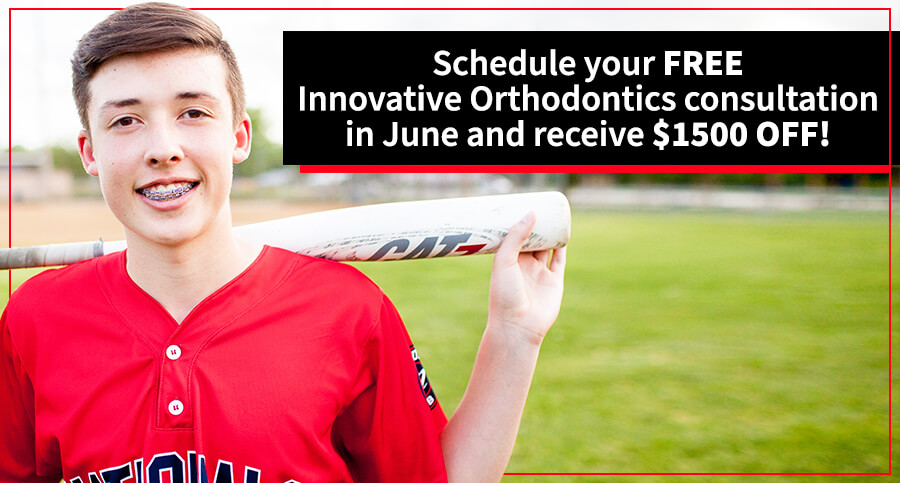 Request your free Orthodontics consultation today by calling 417-889-4746 or by submitting the form below.
At Innovative Dental, comprehensive care is our ultimate goal for every patient, all the way to our youngest patients! Preventative measures can be a parent's best long-term investment for a child's dental health. Early intervention through orthodontic appliances can prevent major problems from occurring later on for many children.
The staff at innovative was amazing with my daughter, she was nervous about getting braces and they explained everything to her through the entire process and made her feel at ease and ended up enjoying herself! Thank you so much for being a safe and encouraging place to go !

Sarah Myers

September 27, 2017

12345
More Reviews
When Should My Child Be Evaluated for Orthodontic Treatment?
Our doctors use the latest technology and training to properly diagnose and treat orthodontic cases, and start evaluating children as early as age 5. We are passionate about orthodontics, and encourage early intervention to potentially prevent permanent tooth extractions, surgery, speech problems, and trauma. Utilizing functional appliances with Phase 1 orthodontics, we can successfully treat crossbites, narrow palates, excessive crowding, tongue thrust, and thumb sucking habits. Intervening early on with Phase 1 has the additional benefit of saving time and money later on when moving on to Phase 2 treatment.
What Is the Difference Between Phase 1 Orthodontics and Phase 2 Orthodontics?
Phase 1 and Phase 2 are terms that orthodontists and dentists often use to differentiate stages of orthodontic treatment. Phase 1 is utilized in cases prior to all of the permanent teeth erupting, and typically involves a functional appliance to treat crossbites, narrow palates, excessive crowding, tongue thrust and thumb sucking habits. Using Phase 1, these types of orthodontic problems can be addressed as early as age 5, and are aimed at preparing the jaw to accommodate space for permanent teeth and improve the relationship between upper and lower teeth to correct the bite. Opting to have your child in a Phase 1 treatment can prevent the need for extractions of permanent teeth and often saves time and money when moving on to Phase 2 treatment.
For most people, Phase 2 is what comes to mind when they think of orthodontics. Phase 2 is applied when all of the permanent teeth are present. Braces, wires and brackets, and occasionally appliances, are used in Phase 2 to position permanent teeth in order to maximize their appearance and function.
What To Expect From the Orthodontic Treatment Process
If you are concerned that you or your child may need to undergo an orthodontic treatment, at Innovative Dental we offer a complimentary consultation with one of our doctors to assess and discuss your options. At the consultation, we will take complimentary x-rays to check for decay or impacted teeth that may need to be addressed. Your doctor will review the results of the images, perform a visual exam to make an assessment of what phase of treatment is right at the time, and give an initial idea of the possible treatment(s) and steps.
The next step is to have a 'workup' of diagnostic information to determine the finer details of your unique case. A work-up typically consists of:
Panoramic x-ray to examine root positioning
Ceph x-ray to view the profile and jaw positioning
Impressions to fabricate diagnostic casts, or models, of the teeth for your doctor to explore the relationship of your upper and lower teeth and visualize your case
Photos of the upper and lower teeth, and of occlusion (how the teeth fit together)
After the workup is complete, your doctor will take time to study the case. Typically within 1-2 weeks you will have a final consultation with your doctor to learn about the exact specifications of your or your child's orthodontic treatment plan.
Depending on the recommendations made, the next step may be a functional appliance such as an expander or spacers, and in other cases brackets are the first step in treatment.
We recommend patients see their doctor every four weeks to assess progress and move forward with treatment adjustments. Upon the completion of orthodontic treatment, your lifetime retainer is included to maintain your beautiful new smile.
What Are the Different Types of Braces?
While braces may not always be the only step in your orthodontic treatment process, they often represent a major part of it. In order to help quality orthodontic treatment fit more seamlessly into our patients' lives, Innovative Dental offers different bracket options that can influence the aesthetics of your braces.
Traditional Metal Brackets
Traditional metal brackets have been a reliable and effective treatment option for countless patients over the years. Children, teens, and even adults often enjoy being able to customize the colors and bands to infuse some of their unique personality into the treatment process. Traditional metal brackets are also oftentimes the most cost-effective option.
Porcelain or Ceramic Brackets
For patients who are concerned about the potential aesthetic disruptions associated with braces, Innovative Dental offers NeoLucent® ceramic brackets. These brackets are made from a high-quality porcelain material that is designed to blend in with the natural color of your teeth. The result is a more discreet approach to orthodontic treatment.
Invisalign®
Invisalign® is an innovative treatment option that uses clear, removable aligners to progressively straighten the teeth. Many adult patients—especially those with more minor to moderate misalignment—prefer this option due to its convenient and aesthetically appealing design. That said, wearing the aligners as directed is essential to treatment success, and some patients may not be suitable candidates based on their orthodontic needs.
Why Choose Innovative Dental for Your Orthodontic Treatment?
Our doctors go above and beyond the minimum continuing education requirements by attending multiple courses a year to learn the latest advancements in the field of orthodontics, including many advanced courses recognized by the International Orthodontic Association. This means we are keeping up with the latest advancements in orthodontics to benefit patients with less invasive treatment options and quicker results.
While braces are a popular option for children and young teens, many adults also appreciate the benefits of alternative orthodontic treatments. Our doctors also utilize ceramic brackets for those patients that prefer a more aesthetic look while undergoing traditional braces treatment.
How Much Do Braces Cost?
Orthodontic intervention is a highly customized process and the overall cost of treatment must account for a range of factors, including the complexity and duration of the process as well as the materials needed to achieve the desired result. As a result, the price of braces and other orthodontic interventions will vary between patients. During your consultation with one of our skilled providers, they can assess your concerns and outline a treatment plan in order to help you achieve the healthy, beautiful, and properly aligned smile you desire. From there, we can give you a personalized price quote.
In many cases, dental insurance providers offer some degree of coverage for braces and other orthodontic treatments. We also invite you to explore Innovative Dental's financing options, as well as our in-house Smile Club Dental Plan, which offers patients a $500 lifetime benefit that can be applied towards orthodontics, if desired.
Additional Frequently Asked Questions About Braces
How do I know if my child needs braces?
In general, the best way to figure out if your child needs braces is to schedule an appointment with a dentist or orthodontist. This is a part of why taking your child in for regular dental visits and cleanings is so important, as it allows their dentist to monitor changes to their teeth and bite over time. That said, there are signs of orthodontic issues you can look out for at home, including:
Discomfort when chewing or difficulty biting down
Teeth grinding and/or jaw pain
Thumb sucking or "teething" past the typical age
A crowded or crooked smile
Early or late loss of baby teeth
How long do braces take?
Most patients are able to complete their braces treatment in around 12-18 months. That said, every smile is unique, and this timeline is liable to vary on a case-by-case basis. Simpler cases of misalignment can sometimes be resolved in as little as 6 months, whereas more complex orthodontic interventions can take years. Our dedicated providers do everything in their power to ensure you have the most comfortable and efficient treatment process. It is important to follow all of their instructions and attend all of your scheduled appointments to optimize your results.
Do braces hurt?
Some patients report minor soreness after receiving their new braces and after having their braces tightened at follow-up appointments. Any discomfort typically resolves within a few hours to days. Applying a cloth-covered ice pack, drinking cold beverages, rinsing the mouth with saltwater, and/or taking over-the-counter pain medications may help symptoms alleviate more quickly.
Is there an age limit for braces?
There is no upper age limit associated with braces, and many older adults choose to undergo orthodontic treatment later in life. In general, most orthodontists require prospective braces patients to have all of their permanent teeth in place and retain sufficient jaw health. The decision as to whether someone is a good candidate for braces treatment can be determined after a thorough evaluation by a qualified orthodontist.
As far as children are concerned, Phase 1 treatment may begin as early as age 5 in order to establish the groundwork for lifelong orthodontic success. However, braces are typically reserved for adolescents, teens, and adults who have all of their permanent teeth in place.