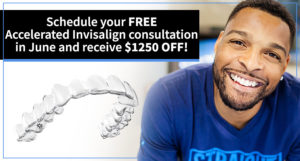 If you have poorly aligned teeth or certain bite issues (over-, under-, or crossbite), Invisalign® can improve your smile with minimal interruption to your daily activities and without others even noticing you are undergoing treatment. Invisalign® is an advanced, orthodontic treatment designed to help patients correct bite issues and straighten their teeth quickly and discreetly. A series of clear, removable trays are used instead of traditional metal braces to increase comfort and convenience.
Benefits of Tooth Alignment
Alignment can stop chipping and wearing of teeth, and prevent damage to the root of your tooth, prevent enamel erosion, improve overall health of your gums and oral hygiene, and improve confidence in your smile. Addressing the alignment of your teeth also has the benefit of creating a harmonious relationship between the teeth, jaw, facial muscles for an overall more healthy and comfortable bite.
What is Accelerated Invisalign®?
Through the use of advanced appliances and techniques, we offer Accelerated Invisalign, propelling Accelerated Invisalign patients through their treatment up to 70% faster than traditional Invisalign. Through the use of functional appliances and in-office procedures, you can show off your new smile in less than half the time of traditional Invisalign.
Why choose Innovative Dental for your Invisalign® treatment?
Innovative Dental is an Invisalign® VIP Platinum Provider, designated by Invisalign due to the high level of experience and case volume and the skills of our cosmetic dentist, Dr. Grant Olson. Innovative Dental is the number one provider of Invisalign® in Springfield, MO and currently the only VIP Platinum Provider designated by Invisalign in the area.
Benefits of Accelerated Invisalign®
The Accelerated Invisalign® system offers many benefits to our patients that many other offices do not provide, including:
Expert care from the only VIP Platinum Invisalign Provider in the area
iTero digital impression of your teeth for the most accurate prescription to avoid goopy impressions
Free professional Zoom take-home teeth whitening kit
Tissue & Esthetic Re-contouring up to 6 teeth
Virtually invisible – most people should not notice your clear aligners
Increased comfort – no metal wires or brackets
Generally fewer office visits required compared to other Invisalign providers
Easier treatment schedule to follow, and contact email for our Invisalign Coordinator to keep in touch with questions or concerns during your treatment
Increased convenience and easy maintenance – aligners are removable for eating, drinking, brushing, and flossing
Treatment time required up to 70% faster with our accelerating techniques and appliances
A set of 4 Vivera retainers included to maintain your alignment after treatment
What to Expect
Innovative Dental has been an answer to prayer! My son 16, has been bullied many years due to his over bite & gaps in his teeth. When Dr. Olson told us he would be able to straighten his teeth in a matter of months with accelerated Invisalign, I couldn't believe it!
And when I saw the before & after pictures of what his teeth will look like, I started to cry. Dr. Olson & staff are Awesome & so caring. They treat you as one of their family.
Thank you so much Innovative Dental! We will definitely tell everyone about this Amazing practice! God Bless You!

Rachel McPeak

October 19, 2017

12345
The process begins with complimentary Invisalign consultation, where you will have complimentary digital x-rays, intraoral photos, and a digital impression taken with our CEREC scanner. Then Dr. Olson and our Invisalign Coordinator will talk with you about the process, show you examples of aligner trays, accelerating devices, and answer any questions you may have about Invisalign. Based on the detailed images of your teeth, alignment, and bite, Innovative Dental can submit a prescription and Invisalign can create customized aligners. Each set of aligners is slightly modified from the one before it. You should progress to a new set of aligners each week, allowing for a gradual shift of the teeth into a straighter position. At the completion of your treatment, you will receive your included whitening kit, have the opportunity to have up to 6 of your teeth cosmetically bonded and contoured by Dr. Olson, and receive your Vivera lifetime retainers.
Schedule A Consultation
If you have any questions about Innovative Dental Invisalign®, or if you are interested in scheduling a complimentary consultation with Dr. Olson or Dr. Megan, please contact us today. Our team is happy to assist you!