Patients experience a variety of dental concerns and problems and seek treatment from our experienced team. Below is a list of some of the more common issues, however we encourage you to contact us to discuss your specific case.
Crooked Teeth
In the dental world, we often use the term "malocclusion" or "misalignment" to refer to crooked teeth. Misalignment or poorly spaced teeth can cause problems such as TMJ, decay (cavities), excessive wear and chipping of teeth, and many other problems that can cost you money down the road. Properly aligned teeth can save you the expense of costly dental procedures, and give you the confident smile you deserve.
Accelerated Invisalign
The process of straightening teeth doesn't have to be painful and it doesn't have to take years to complete. Innovative Dental can tailor your Invisalign experience to fit your lifestyle and goals.
Our Accelerated Invisalign process:
Cuts treatment time by up to 70%
Reduces the number of necessary office visits
Reduces discomfort
Still wondering if Invisalign is right for you? Learn more about Accelerated Invisalign.
Invisalign® or Traditional Braces?
Invisalign®
Clear trays and tooth colored attachments make the process virtually invisible
Trays are removable, making eating, brushing, and flossing simple
Shorter treatment time
Less office visits required
Innovative Dental is proud to offer Invisalign First and Invisalign Teen, so that even our youngest patients can experience the benefits of Invisalign.
Traditional Orthodontics
Hands-off treatment
Sometimes better for very complex movements
No trays to remove and put back in. (sometimes better for younger, less responsible patients)
Read more about our Traditional Braces process.
Missing Teeth
Are you self conscious of your smile because of missing teeth? Do you have trouble chewing, or even speaking? You should never ignore a missing tooth. It can cause serious problems and impact the rest of your smile in a dramatic way.
Dental Implants
Dental implants are the most ideal solution for replacing missing teeth. They are a permanent solution that preserves your bite and looks just like your natural tooth. Dr. Grant Olson has placed hundreds of dental implants and continues to refine his skill and study the latest techniques.
At Innovative Dental, we take the guesswork out of this process by using an advanced surgical guide, making placement predictable, precise, and painless. Watch as Dr. Olson explains why he uses the fully guided implant process.
For patients missing multiple teeth, implant technology can be combined with full arch prosthetics to provide a permanent solution. Learn more about Full Mouth Rehabilitation using implants.
Cerec Bridges
Another treatment option for missing teeth is dental bridges. At Innovative Dental, our doctors use zirconia – a durable, non-metallic material that more closely resembles the natural color of teeth, giving you a beautiful result! We are one of the only practices in the area to offer the convenience of making these bridges right in our office.
Not sure what the best solution is for your missing teeth? Schedule your complimentary consultation today!
Stained Teeth
Coffee, tea, and wine can also cause unattractive stains, but we certainly aren't going to suggest that you give them up! At Innovative Dental, we offer whitening options to help your smile shine bright while still enjoying your favorite beverages!
When dealing with stained teeth, it is important to know that at home bleaching kits can only remove surface stains that have not penetrated the enamel. When addressing surface stains, our at-home Zoom!® teeth whitening kits can help you brighten your smile at your own convenience. It's important to make sure that your teeth are free of decay or other problems before whitening in order to minimize sensitivity. For this reason, we offer whitening kits only to patients who are up to date on their exams and x-rays.
When stains have reached below the enamel, sometimes a more advanced technique is necessary. In this case, cosmetic veneers may be a good option. Porcelain veneers don't easily stain and can provide a white smile for years to come.
Interested in cosmetic veneers? Call today to schedule your complimentary cosmetic consultation!
Tooth Wear
Teeth wear naturally as we age. Grinding, clenching, misalignment, and other dental issues can cause teeth to wear prematurely. When teeth are worn down, not only does it affect the look of your smile, but problems such as sensitivity and chewing discomfort can occur.
If you are concerned about tooth wear, the team at Innovative Dental is here to help! Options such as Invisalign, crowns, and veneers can rejuvenate your smile, make you look years younger and help to prevent future damage. Contact Us to Schedule Your Complimentary Consultation Today!
Dental Anxiety
Dental Anxiety is probably the top reason people avoid the dentist. Small dental problems can quickly escalate into larger and more costly issues when regular dental exams and cleanings are avoided. At Innovative Dental, we understand that the dentist's office can be an intimidating place and we have made every effort to change the way you view dental care.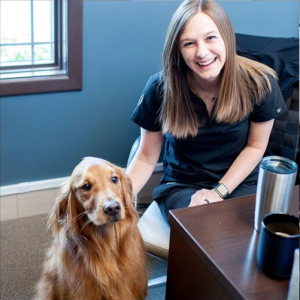 Meet Dexter, our therapy dog! Dr. Olson's dog Dexter has taken pet therapy classes and comes to the office every day. He hangs out in the back office with some of his favorites.