Springfield Cosmetic Dentist Discusses Various Invisalign® Benefits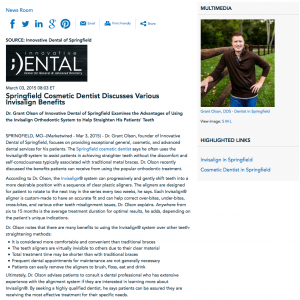 Dr. Grant Olson of Innovative Dental of Springfield examines the advantages of using the Invisalign® orthodontic system to help straighten his patients' teeth.
Springfield, MO – Dr. Grant Olson, founder of Innovative Dental of Springfield, focuses on providing exceptional general, cosmetic, and advanced dental services for his patients. The Springfield cosmetic dentist says he often uses the Invisalign® system to assist patients in achieving straighter teeth without the discomfort and self-consciousness typically associated with traditional metal braces. Dr. Olson recently discussed the benefits patients can receive from using the popular orthodontic treatment.
According to Dr. Olson, the Invisalign® system can progressively and gently shift teeth into a more desirable position with a sequence of clear plastic aligners. The aligners are designed for patient to rotate to the next tray in the series every two weeks, he says. Each Invisalign® aligner is custom-made to have an accurate fit and can help correct over-bites, under-bites, cross-bites, and various other teeth misalignment issues, Dr. Olson explains. Anywhere from six to 15 months is the average treatment duration for optimal results, he adds, depending on the patient's unique indications.
Dr. Olson notes that there are many benefits to using the Invisalign® system over other teeth-straightening methods:
It is considered more comfortable and convenient than traditional braces
The teeth aligners are virtually invisible to others due to their clear material
Total treatment time may be shorter than with traditional braces
Frequent dental appointments for maintenance are not generally necessary
Patients can easily remove the aligners to brush, floss, eat and drink
Ultimately, Dr. Olson advises patients to consult a dental professional who has extensive experience with the alignment system if they are interested in learning more about Invisalign®. By seeking a highly qualified dentist, he says patients can be assured they are receiving the most effective treatment for their specific needs.
About Grant Olson, DDS
Dr. Olson graduated from Missouri State University and received his Doctor of Dental Surgery from the University of Missouri – Kansas City School of Dentistry. At Innovative Dental of Springfield, which is recognized as an Invisalign® Premier Preferred Provider, he and Dr. Megan Pinkerton offer a comprehensive span of dental treatments and services. Dr. Olson is an active member of the Missouri Dental Association, the American Dental Association, and the CEREC® Doctors Mentor Group. He is available for interview upon request.
For more information about Innovative Dental of Springfield, visit idspringfield.com and  facebook.com/InnovativeDentalOfSpringfield.
Contact:
Innovative Dental of Springfield
6401 S. Innovation Ave.
Springfield, MO 65804
(417) 708-5779
Rosemont Media
(858) 200-0044
www.rosemontmedia.com