Will Invisalign® Work for Me?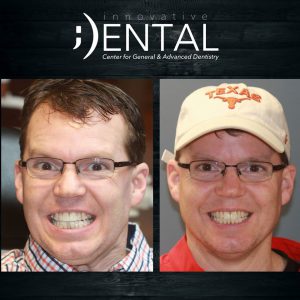 At Innovative Dental of Springfield, we offer a range of general, advanced, and cosmetic dentistry procedures to help renew your smile. As an Invisalign® Premier Preferred Provider, our Innovative Invisalign® treatment may be able to help you achieve straighter teeth using a sequence of clear aligners. This advanced orthodontic system is designed to be a more comfortable and convenient alternative to traditional metal braces. Below you can find specific dental issues that Invisalign® aligners can help address:
Gaps
Under-bite
Over-bite
Overcrowding
Cross-bite
Teeth misalignments
We know that a great smile can do wonders to boost your self-esteem. In addition to benefits such as easy maintenance, fewer office visits, and shorter treatment times, our Innovative Invisalign® system offers many advantages not provided by most dental practices. These added benefits include free professional teeth whitening, tissue and esthetic recontouring, cosmetic bonding, and more. Ultimately, candidate for Invisalign® will be determined at the time of your consultation.
Contact Innovative Dental
If you have any questions about Invisalign®, or if you would like to schedule an appointment to find out if this treatment is right for you, please do not hesitate to call us at (417) 889-4746 orcontact us via our website. We look forward to hearing from you soon!