Qualities to look for in Adhesives for Dentures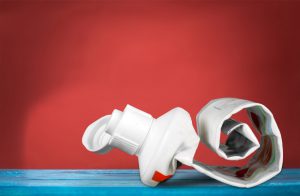 The right adhesive for your dentures can make all the difference when it comes to comfort. With so many different adhesives for dentures available on the market, it can be difficult to decide which adhesive is the right one for you. The team at Innovative Dental wants to make sure you have the knowledge and understanding you need to find the right denture adhesive. We have determined three of the most important denture adhesive qualities.
Adhesive Duration
The first quality that you should consider while looking for denture adhesives is how long the adhesive will last. Not every adhesive for dentures is rated to last the same length of time. If you are concerned about a long lasting hold, you will want to use an adhesive that claims an all day strong adhesive quality. Keep in mind that not all adhesives are made equal and some may last longer than others. If you try one that claims a long lasting hold and it doesn't end up working for you, don't worry! There are other products out there that will work for your dentures.
Sealing Properties
Another important element of a good denture adhesive is the sealing capabilities. If you've had dentures for a while, you know how irritating and uncomfortable it is when a piece of food gets wedged between your gums and your dentures. If food concerns are a priority for you, you may want to use a cream adhesive instead of a sheet adhesive or denture powder.
Ingredients of Adhesive
The ingredients of whatever adhesive you are considering are also vitally important to the comfort of your dentures. People react differently to different products, and the last thing you want to have to deal with is an irritation or allergic reaction to an ingredient in the denture adhesive. If you have sensitive skin or allergies to certain ingredients in other skin and hygiene products, you will want to look over the ingredients list in the adhesive to make sure you won't react to any of the ingredients.
Dentures at Innovative Dental
At Innovative Dental, we care about your teeth. If you have dentures or would like dentures made, our office in Springfield, Missouri, can help! We also provide family dentistry services, other cosmetic dentistry services like porcelain veneers, and emergency dental services for those unexpected moments. For more information on our services, check out the Innovative Dental website and schedule your next dental appointment today! We'd love to help you get the healthy and happy smile of your dreams.