How Do I Choose the Right Dentist for My Dental Implants?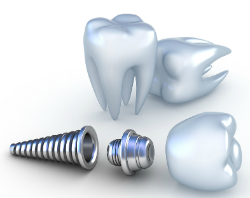 Choosing a dentist to perform your dental implant surgery is not a decision to make lightly. The following are some essential questions you should ask your prospective dentist to help ensure you receive the safest, most effective treatment for your dental implants:
What is your background and the extent of your dental implant surgery training?
How many dental implant procedures have you performed?
What type of implants do you use, and how do you perform the procedure?
Will the placement my implant(s) be performed in-house?
Who will build and secure my final crown(s)?
Will the placement of my final crown(s) also be performed in-house?
Have you performed dental implant cases similar to mine?
Do you have any dental implant before-and-after pictures available?
In addition to the above inquiries, you should also ask your prospective dentist about the technologies he or she employs during the procedure, as these can significantly influence the success of the treatment. For example, our dentists, Dr. Grant Olson andDr. Megan Pinkerton, utilize the Galileos™ 3D Imaging System to surgically guide implant placement. With the increased precision granted by this high-resolution imaging system, Dr. Olson and Dr. Megan are able to more accurately design and place dental implants, which leads to optimal results and often a quicker treatment and recovery.
Contact Innovative Dental of Springfield
For more information about dental implants, or if you would like to schedule an appointment with one of our experienced dentist, please feel free to contact us today.