CEREC® Dental Crowns vs. Lab-Made Dental Crowns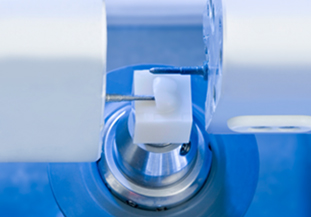 Are you considering dental crowns to restore chipped, cracked, and/or damaged teeth? This popular cosmetic dentistry procedure can be a great, long-term solution for many people who are interested in regaining both the function of their teeth and the aesthetics of their smile. As such a popular treatment, there are multiple ways crowns can be made, including in a dental lab as well as in-office using CEREC® technology. So what's the difference between lab-made dental crowns and CEREC® dental crowns?
Most dental labs use digital impressions of your teeth in order to custom design and create the crown for optimal fit and function. The downside, however, is that lab-produced crowns can take days – even weeks – before they are produced and ready to be secured to your teeth. In contrast, CEREC® dental crowns can be custom designed, manufactured, and securely placed on your teeth during a single appointment. Thanks to CEREC®'s 3D imaging software and innovative milling technology available in-house, you are free to eat, drink, and, of course, smile with your new crown as soon as you leave the office.
Ultimately, none of this is to say one option is distinctly better than the other for all patients – lab-made crowns and CEREC® crowns can both provide excellent results. The biggest priority is to ensure that your dentist has the experience and skill necessary to achieve the highest quality restorations regardless of how they are produced.
Contact Our Office
To learn more about dental crowns, or if you would like to schedule an appointment with one of our experienced dentists – Dr. Grant Olson and Dr. Megan Pinkerton – please feel free to contact us today.