How Can Porcelain Veneers Improve My Smile?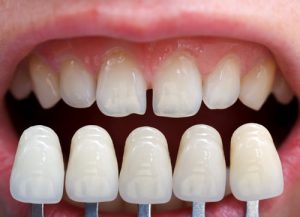 Are you seeking to improve the appearance of your smile but not sure which dental treatment is right for your specific needs? At Innovative Dental of Springfield, we provide a number of effective treatment options that can restore both form and function to your teeth, one of which is porcelain veneers. Custom-designed to look and feel just like your natural teeth, this innovative cosmetic dentistry procedure can help conceal several perceived tooth imperfections, including:
Chips, breaks, and/or cracks
Size inconsistencies
Gaps and other misalignments
Stains and discolorations
In addition to effectively revitalizing your smile with long-lasting results, the added benefit of porcelain veneers is that the entire treatment can often be completed right here in our office during a single visit. Using advanced CEREC® technology, Dr. Grant Olson and Dr. Megan Pinkerton – both of whom have received extensive training with the CEREC® system – can custom design, fabricate, and secure your veneers to your teeth in a matter of hours as opposed to weeks. As a result, you can walk out of our office with a beautiful new smile that same day!
Ultimately, porcelain veneers can be an excellent option for masking any cosmetic concerns you may have with your teeth. If you are interested in receiving veneers to improve the appearance of your smile, we invite you contact us today to schedule an appointment at Innovative Dental of Springfield.