Missouri Dentist Explains How Porcelain Veneers Can Be Designed, Made, and Placed in a Day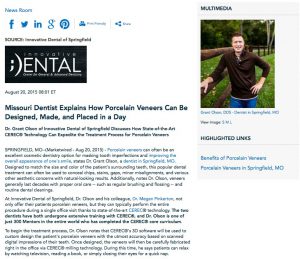 Dr. Grant Olson of Innovative Dental of Springfield discusses how state-of-the-art CEREC® technology can expedite the treatment process for porcelain veneers.
Springfield, MO — Porcelain veneers can often be an excellent cosmetic dentistry option for masking tooth imperfections and improving the overall appearance of one's smile, states Dr. Grant Olson, a dentist in Springfield, MO. Designed to match the size and color of the patient's surrounding teeth, this popular dental treatment can often be used to conceal chips, stains, gaps, minor misalignments, and various other aesthetic concerns with natural-looking results. Additionally, notes Dr. Olson, veneers generally last decades with proper oral care – such as regular brushing and flossing – and routine dental cleanings.
At Innovative Dental of Springfield, Dr. Olson and his colleague, Dr. Megan Pinkerton, not only offer their patients porcelain veneers, but they can typically perform the entire procedure during a single office visit thanks to state-of-the-art CEREC® technology. The two dentists have both undergone extensive training with CEREC®, and Dr. Olson is one of just 300 Mentors in the entire world who has completed the CEREC® core curriculum.
To begin the treatment process, Dr. Olson notes that CEREC®'s 3D software will be used to custom design the patient's porcelain veneers with the utmost accuracy based on scanned digital impressions of their teeth. Once designed, the veneers will then be carefully fabricated right in the office via CEREC® milling technology. During this time, he says patients can relax by watching television, reading a book, or simply closing their eyes for a quick nap.
Following their construction, the Springfield dentist explains that the porcelain veneers are then securely placed on the front of the patient's affected teeth. After a final polish to ensure the veneers closely resemble the color of their natural teeth, he says patients are typically able to leave the office smiling. The entire process often takes only hours as opposed to the weeks it may span when veneers are manufactured in an outside dental lab, he adds.
Ultimately, Dr. Olson asserts that employing CEREC® technology to design and construct porcelain veneers requires special training and expertise, so patients interested in this innovative cosmetic dental solution should ensure their prospective dentist has the proper qualifications and experience necessary to achieve optimal results.
About Grant Olson, DDS
After graduating from Missouri State University, Dr. Olson attended the University of Missouri – Kansas City School of Dentistry, where he earned his Doctor of Dental Surgery. In addition to performing porcelain veneer procedures with CEREC®, he and Dr. Pinkerton also utilize the same day restoration technology to create customized crowns, inlays, and onlays. Dr. Olson is a member of the CEREC® Doctors Mentor Group, as well as both the Missouri Dental Association and the American Dental Association. He is available for interview upon request.
To learn more, visit idspringfield.com.
Contact:
Innovative Dental of Springfield
6401 S. Innovation Ave.
Springfield, MO 65804
(417) 708-5779
Rosemont Media
(858) 200-0044
www.rosemontmedia.com