Meet Dr. Taylor Jordan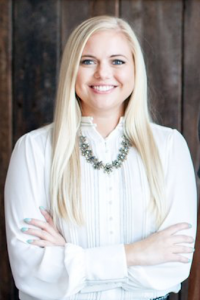 Dr. Taylor Jordan joined the Innovative Dental team during the summer of 2018, and she has spent the last few years providing our patients with exceptional dental care and outstanding customer service. Dr. Jordan's patient-driven approach to dentistry is a perfect fit for Innovative Dental. She saw the same family dentist for most of her childhood, and that relationship influenced her desire to make dentistry her career. Her goal is to form similar relationships with her own patients and to help positively impact the way they view visiting the dentist.
Dr. Jordan was born and raised in Missouri. She attended the University of Arkansas for her undergraduate degree before completing her Doctor of Dental Surgery (DDS) at the University of Missouri-Kansas City School of Dentistry. Dr. Jordan met Dr. Grant Olson at a UMKC event shortly after her graduation. Dr. Olson had been looking to expand Innovative Dental, and he personally invited Dr. Jordan to tour the practice. During her visit, Dr. Jordan was drawn to the quality of the facilities and the variety of dental treatments offered at Innovative Dental. She was also excited to work somewhere so close to her hometown roots, in addition to expanding the scope of her professional expertise and experience. We are beyond pleased to have Dr. Jordan on our team, and she has proved herself to be an excellent addition to the Innovative Dental family.
Dr. Jordan loves being a part of Innovative Dental, and she has continued to learn and expand her skill set in order to offer the highest quality of care to the Springfield community. In addition to her role as a general dentist, Dr. Jordan also offers both Invisalign® and cosmetic dentistry services. Whatever your dental needs may be, she is excited to help you achieve optimal oral health and a beautiful smile! If you are interested in learning more about her credentials and background, you can read more about Dr. Jordan here.
If you have dental questions or concerns, or if you would like to schedule an appointment, please contact Innovative Dental today!