What Are Implant Supported Dentures?
Are you a current or potential wearer of traditional dentures, but interested in a more convenient and comfortable alternative to tooth replacement and smile enhancement? Traditional dentures can sometimes cause gum irritation, require time-consuming maintenance, and move, slip, or even fall out of your mouth. If you are experiencing these issues—or if you wish to avoid these problems altogether—implant supported dentures may be the perfect solution.
Also known as implant dentures or anchored dentures, implant supported dentures are full arch tooth restorations designed to replace entire rows of missing or badly damaged teeth. Unlike removable dentures, implant dentures are anchored in place via dental implants, allowing for a more comfortable and stronger fit.
At Innovative Dental of Springfield, our skilled cosmetic dentist—Dr. Grant Olson—utilizes a state-of-the-art anchored denture technique called Hybridge®. With this advanced system, a natural-looking prosthetic containing 12 teeth can be secured with five or six implants (depending on whether the upper or lower row of teeth is being replaced), ultimately resulting in a full arch restoration that looks, feels, and functions more like a natural, permanent part of your mouth.
If you are interested in learning more about implant supported dentures, we invite you to continue reading the informative sections provided throughout this page, or simply contact Innovative Dental today to schedule a consultation.
What Are the Benefits of Implant Supported Dentures?
Anchored dentures can be an effective treatment option for many patients who are looking for an alternative to traditional dentures. Among numerous benefits, implant supported dentures can:
Eliminate the need for messy adhesives
Prevent dentures from slipping out of place
Increase comfort and denture stability
Be easily maintained—you do not have to remove the dentures to clean them
Restore teeth functionality and the ability to eat and chew normally
Minimize gum irritation
Achieve a more natural look and feel
What's the Difference Between Hybridge® and All-on-4® Dental Implants?
There are several different techniques for full arch tooth replacement, with two popular options being Hybridge® and All-on-4®. Though both of these methods are designed to achieve the same end goal, the pair has numerous distinctions—most notably including the number of dental implants used to secure the overdenture in place.
In the majority of cases, the Hybridge® technique utilizes six implants for an upper arch restoration and five implants for a lower arch, while All-on-4® uses only four implants for each arch. This dissimilarity is significant because the quantity of implants placed can often impact the long-term success of treatment. For example, placing too few dental implants to anchor a full arch prosthesis increases the risk of the restoration coming loose or failing—especially for individuals who have inadequate jawbone density. In contrast, placing a greater number of implants can generally help increase the overall stability and durability of the final denture restoration.
With this in mind, Dr. Olson prefers to utilize the Hybridge® system due to its potential for superior, more predictable long-term results in a broader range of patients.
Download our dental implant pricing & Information Guide
Fill out the form below and we will email/text you the guide along with a $350 savigns offer!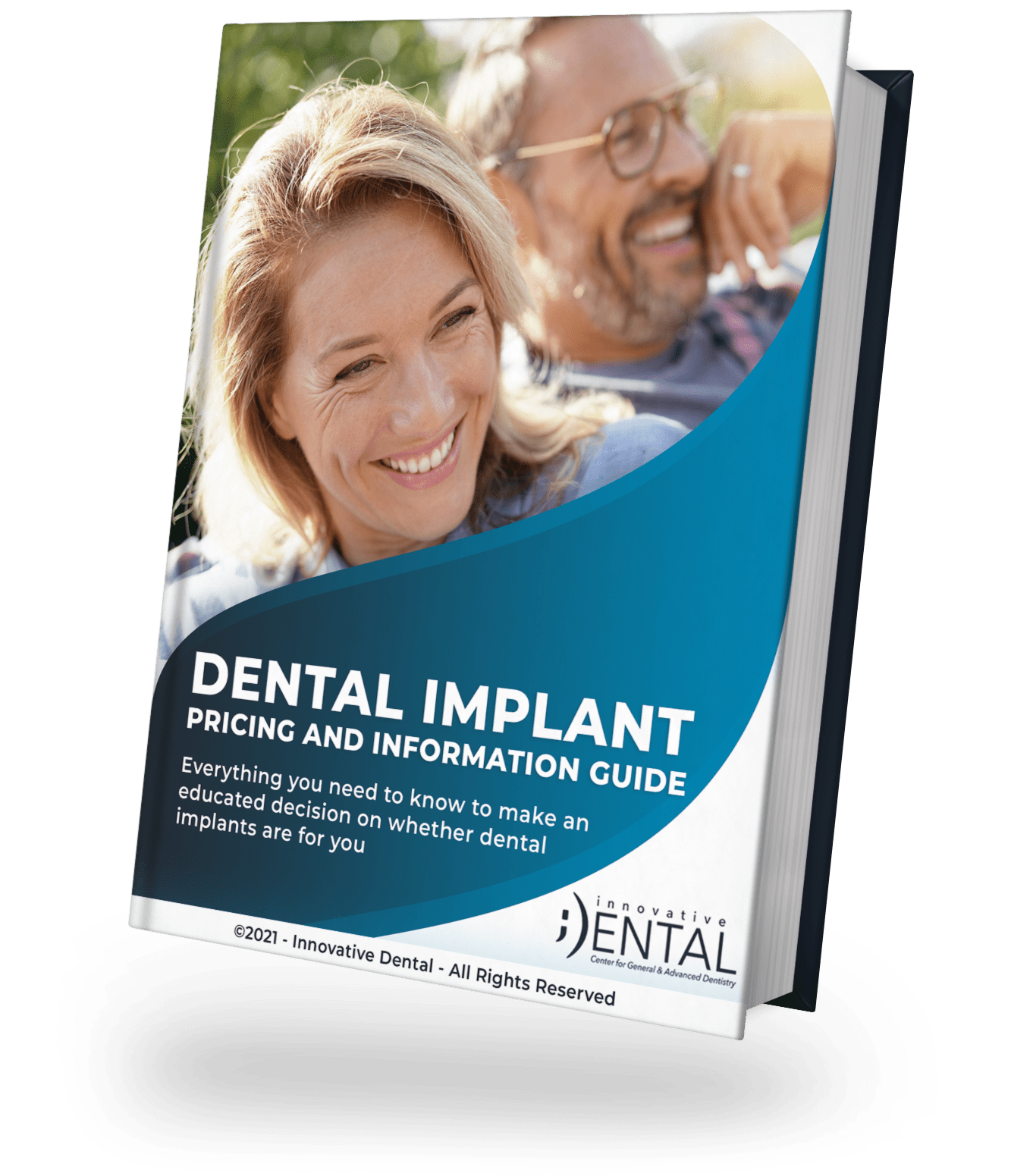 Dental Implant Options
Average Pricing
Factors That Affect Eligibility
And More…
What Sets Hybridge® Apart from Other Full Arch Restoration Techniques?
Dr. Olson is proud to be offering the Hybridge® implant denture system for a number of reasons, including:
Increased Candidacy: The Hybridge® technique calls for strategic implant placement that aligns with areas in which many people experience little to no reduction in jawbone density despite tooth loss or damage. This means many people who are not considered good candidates for implant dentures by traditional standards are often still eligible for Hybridge® full arch tooth replacement.
High-Quality Materials: Hybridge® implant restorations are made using a strong chrome cobalt material, which adds enhanced durability and structural support. In addition, the visible denture prosthetic is made from cross-linked PMMA and pink acrylic material, helping create an extremely natural tooth and gum tissue appearance.
Shorter Treatment Times: While the overall treatment time for implant supported dentures will vary based on a number of factors—including the necessity of tooth removal or bone grafting—the Hybridge® technique can typically be completed faster than other full arch replacement methods. Treatment time can be further shortened by Dr. Olson's use of Nobel Biocare technology to promote more rapid implant fusion.
Distinguished Providers: In order to become a Hybridge® provider, dentists must complete extensive training and earn certification through Hybridge, LLC—and only those who are already recognized for their expertise in implant dentistry are eligible for the training program.
What Can I Expect During the Implant Supported Denture Process?
During your first appointment, Dr. Olson will assess your jawbone density and overall oral health in exceptional detail utilizing advanced Galileos™ 3D imaging. If it is determined you are a good candidate for implant dentures, he will then use the Galileos™ system to precisely plan treatment—including the identification of optimal locations and angulatures for successful implant placement.
At the time of surgery, Dr. Olson will insert the implant posts through the gums and into the jawbone tissue to simulate tooth "roots." Six dental implants are generally placed for upper arch restoration, and five implants are typically used for lower arch restoration. Over the next few months, the implants should completely fuse to the bone through a process called osseointegration, ultimately serving as a permanent, stable support for the denture(s). To aid —and even expedite—this process, Dr. Olson can often use advanced technology from Nobel Biocare that helps facilitate rapid fusion between the implant and the jawbone for quicker restorative results and exemplary stability. When the implants have fully fused to the jawbone, the final Hybridge® full arch restoration(s) can be secured, completing the treatment.
In the end, you can expect new teeth that look and function much like your natural teeth. You can also clean and maintain your implant supported dentures the same way you maintain your natural teeth through regular brushing, flossing, and routine dental check-ups.
How Much Do Implant Supported Dentures Cost?
Due to the customization involved in the implant denture process, the total cost of treatment varies from patient to patient. Some of the most common factors that can influence pricing for implant supported dentures from one practice to another include:
How many dental implants are needed
The quality of materials and technology utilized
Whether tooth removal and/or other preliminary treatments are required
The complexity of the overall treatment plan
The training, skill, and experience of the dentist
Any insurance coverage available through one's dental healthcare plan
At Innovative Dental, we never want the cost of treatment to stand in the way of your smile goals, which is why we partner with LendingClub® and CareCredit® to offer various financing options that can bring the price of implant dentures into virtually any budget. You can conveniently apply online for the payment plan of your choice, or if desired, a member of our team can help you get started on the application process at the time of your visit.
Learn More About Implant Supported Dentures
If you have any additional questions about Hybridge® implant supported dentures, or if you are interested in scheduling a comprehensive consultation with Dr. Olson, please contact us today.
If you have more questions
Contact Us