Smile Simulation Can Help Visualize Your Results Prior to Dental Treatment!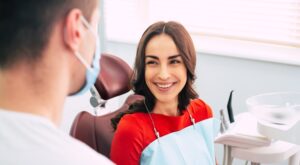 A healthy, beautiful smile can be life changing, and many people find that improving the look of their teeth gives them increased confidence in all aspects of life! Springfield cosmetic dentist Grant Olson, DDS and his associates at Innovative Dental—Drs. Megan Westrich, Taylor Jordan, and Seth Grey—are committed to helping patients achieve the stunning smiles they desire using advanced cosmetic dentistry techniques. Whether you are interested in more conservative improvements or are desiring a complete smile makeover, the Innovative Dental team can help you achieve your smile goals.
In order to help patients better visualize their potential results, Dr. Olson and his team utilize smile simulation software right here in the office. Using digital imaging technology, the program can effectively simulate the outcomes of a variety of different cosmetic dentistry procedures, including teeth whitening, porcelain veneers, and cosmetic bonding. This enables patients to get a better understanding of how their teeth will look after different treatments. Not only can this help patients better select the treatment that best suits their needs, but it can also give them increased confidence in their decision to pursue cosmetic dental treatment!
If you are interested in learning more about what cosmetic dentistry can do for you, please contact Innovative Dental today! Our friendly and knowledgeable team will be happy to schedule you an appointment or answer any questions you may have.